Working at Cascade Aerospace Inc.
Cascade Aerospace Inc. is an operating unit of IMP Aerospace & Defence. Imagine being a member of one of the most exciting and diverse companies in Canada.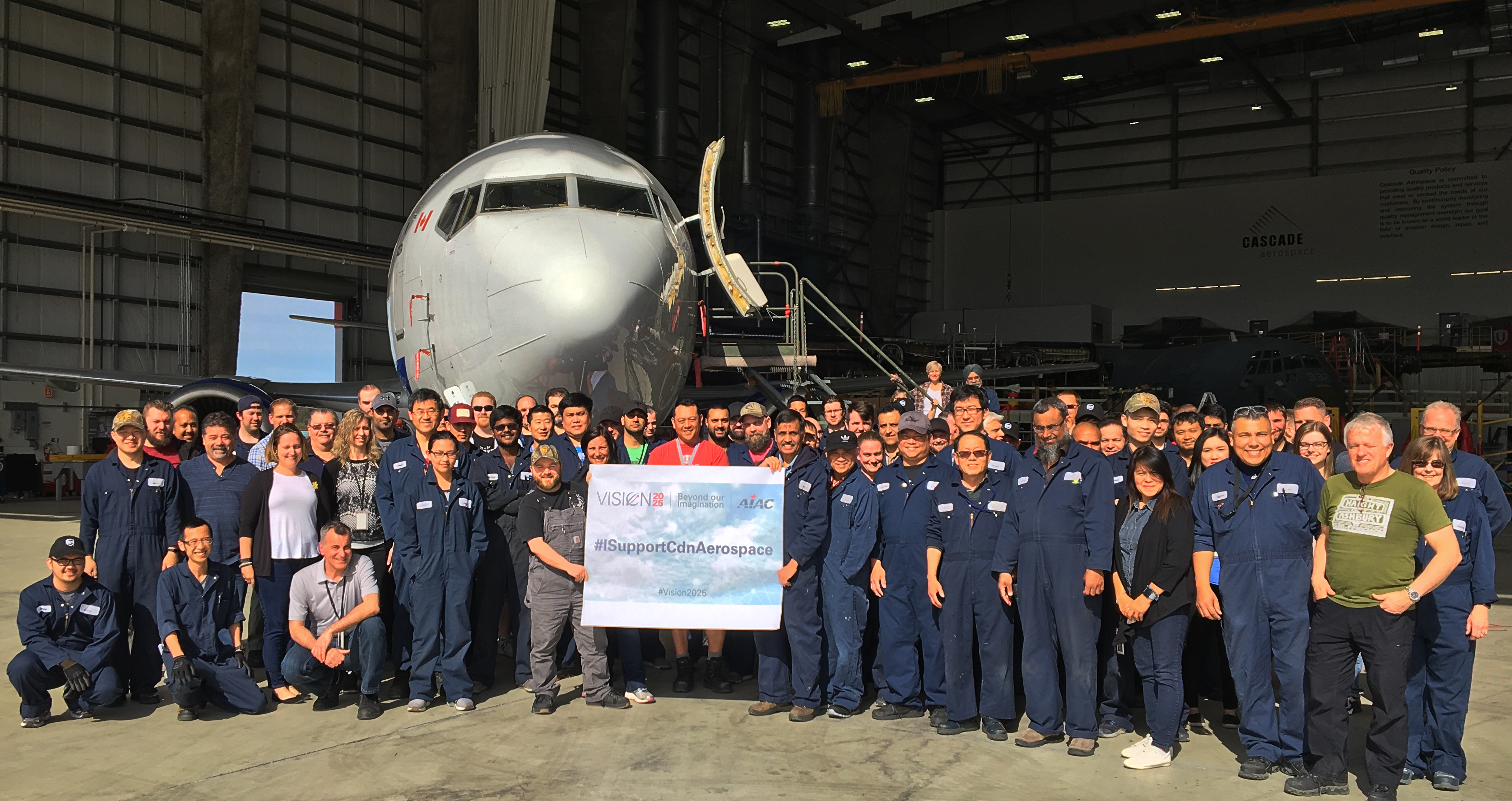 Discover how you can become a part of the Cascade Aerospace team.
Our People & Culture
Cascade Aerospace' most important resource is our employees whose skills, energy and commitment to quality aircraft services and products is the source of the Company's character. Our reputation, built on the highest of quality, is only possible because of the strong work ethic and integrity of each and every employee.
We are committed to operating in accordance with the highest ethical standards and applicable laws, rules and regulations. We place the highest value on the integrity of each employee. Furthermore, to guide our company culture we have implemented 4 Cultural Pillars- Caring, Safety, Learning and Results, complementing our existing company values. Intentional collaboration and cross-departmental communication will further inspire innovation!
Benefits
Cascade Aerospace provides a wide range of employee benefits which are designed to support the total health and wellbeing of our employees and their families. We are pleased to offer a comprehensive group benefits plan and group pension/RSP program which respond to the individual needs of our diverse workforce by offering flexibility and choice.
Diversity and Inclusion
Diversity, inclusion and mutual respect are engrained within the Cascade value system. We are dedicated to providing a respectful workplace that appreciates and celebrates individual differences. Through our formalized Employment Equity programs, we endeavour to employ a workforce that is representative of the communities in which we operate and serve.
Training and Development
Cascade is committed to ensuring that all employees are able to effectively and efficiently use their skills and experience to contribute to the organization's performance. We encourage and support our employees through training and career development.
Relocation
Cascade is committed to providing relocation assistance to successful candidates and their families located outside of British Columbia. Further details will be included in the total compensation package made available within a job offer.
The City in the Country
Lovers of the great outdoors will be happy to find that Abbotsford serves as the perfect base due to its proximity to both the mountains and the ocean. Within a few hours' drive, you can either sunbathe on one of the many beaches of the Pacific or do some hiking in the magnificent Cascade Mountains. The city's devotion to a healthy community is further emphasized by the more than 100 kilometers of nature trails, perfect for hiking, running and cycling. A large number of sports fields and courts can also be found in the city, along with a 25,000-square-foot skate park and 70 playgrounds.
Abbotsford's oceanic climate results in typically short, warm and dry summers, with few days reaching a temperature of more than 30°C. The average temperature in July and August is a comfortable 24°C. The coolest months are December and January, but temperatures rarely dip below freezing. On average the last frost each spring falls around April 7. Abbotsford is actually a wetter city than Vancouver — the fourth dampest of 100 Canadian cities with approximately 1507 mm of rainfall annually.
Abbotsford is one of the top choices for families when it comes to relocating to the Fraser Valley region. One of the main reasons for this is its prime education system, offering 46 public schools, 4 private schools as well as 8 post-secondary institutions. The University of the Fraser Valley is one of the biggest university colleges in the country and has numerous campuses here. The tight-knit community of Abbotsford puts an emphasis on a vibrant social scene for residents of all ages with special attention given to families with children.
Like the rest of the Fraser Valley region, Abbotsford's cost of living is substantially lower than Greater Vancouver's. Abbotsford's housing prices are roughly half of that in Vancouver, and families can live a much better lifestyle at a lower income.
The Living Wage for Families campaign has calculated the basic hourly wage required for a family of four with both parents working full time, year round in Abbotsford to be $17.40/hour each or $72,384 combined annually; in Vancouver the living wage has been calculated at $20.91/hour.
The city's location in the southwestern end of Canada, close to the international border, promises easy access to numerous cities and amenities. Larger cities like Richmond, Burnaby and Vancouver are less than an hour's drive away and can be easily reached by public transport. Abbotsford International Airport connects the city to other parts of North America through both domestic and international flights.
Since the city is reasonably spread out, owning a car definitely helps with getting around here. Parking is generally free and cheaper than in larger Canadian cities and the plenitude of parking stalls means that finding a vacant spot should not prove to be too difficult.
As you can see, Abbotsford is quite the charmer! Sometimes known as The City in the Country, it is the perfect place to settle down for those in search of tranquility, proximity to nature and a safe place to call home. The city's idyllic location and cost-effective housing options only add to its appeal. Anyone thinking of moving here should learn all about the ins and outs of daily Abbotsford life and we are positive that the city will reward them in more ways than one.
Contact Us
For Human Resources related communication only, please email: hr@cascadeaerospace.com.
We'd love for you to become a part of the Cascade family and experience the Cascade difference. Look below for details on our current opportunities and/or to submit your application. We look forward to hearing from you! Check back often for new openings or set up an account and subscribe for relevant postings. Only submissions received through our online recruitment software will be accepted. Please do not email resumes to the general HR inbox.
If you are an agency or recruiter, submissions will only be accepted if prior agreement is in place.
Cascade Aerospace is not currently accepting sponsorship applicants from Out of Country. Due to our requirement for immediate Controlled Goods security clearance, only Permanent Residents or Canadian Citizens will be considered at this time. If you apply to a posting that is not open to Out of Country Applicants, you will be deleted.
Career Opportunities
---
Click Here to View Current Career Opportunities