Aircraft Freighter Conversions
The Cascade Aerospace Package Freighter kits for the Bombardier Q400 and CRJ include parts, modification instructions, technical publications, and airworthiness certification necessary to support conversion of Bombardier Q400 and CRJ aircraft from passenger configuration into Class E Package Freighter.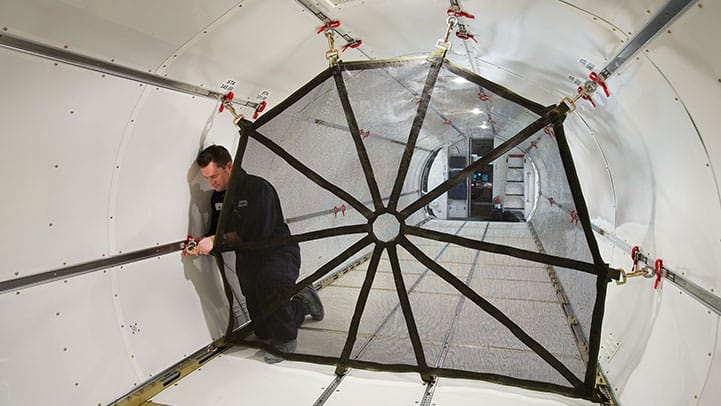 This modification involves removing interior passenger-related elements and installing a full cabin length Class E cargo compartment. Cascade has numerous hours of experience converting aircraft such as Bombardier CRJ100 or CRJ200 and Bombardier Q400 into package freighter using our freighter kits.
The kit contents include items such as:
structural parts for a new, more robust floor suspension system and structure
new floor boards specifically designed to meet the demanding environment of cargo operations
liner supports, liner panels, liner close-out features, and lower kick-plate assemblies
ventilation ducting and shut-off valve installation assembly
smoke detector system
cargo lighting system
wiring harnesses, switches, circuit breakers and related support parts
all relevant placards
9G forward restraint nets.
Providing the best of quality and service to our customers is Cascade's goal. Complete logistics and technical support is available from Cascade, both during the kit installation process and after your aircraft is in service. We also provide airworthiness certification necessary to support the conversion of your aircraft as well to ensure there is no delay in getting your aircraft in the air.